1980s Reunion - Saturday 19th September 2009

Holly Wills (née Soffe) writes: I must start with thanks to Paddy Savage, the Headmaster, for allowing us to invade Northaw / Norman Court (call it what you will) particularly as this was during term time, and to the kitchen staff who laid on an excellent lunch for us.

But then to ONs - thank you to those that came to reminisce and re-visit old haunts and to catch up with old comrades.

For those of you that couldn't make it, you missed out on a great day. The sun shone as has been typical of past reunions, and everyone enjoyed wandering around, re-visiting old haunts within the school and grounds; checking that the Dell is still there (rumours that it had been filled in proved to be un-founded) and generally inspecting what has changed and what remains seemingly untouched since we were all there! Even if the use of a room had changed, interestingly the smell hadn't - so it all seemed unnervingly familiar!

Denis and Anne Blake returned - it was great to see them on such fine form and I know they enjoyed seeing everyone and hearing all the news of careers, marriages, births etc.

If there is to be one disappointment of the day, it would be that more people were not there - perhaps Facebook is to blame, in that it is far easier to catch up on line and find out what everyone is doing with their life!

The next reunion (for those with younger siblings) will be for the 1990s era. Please do sign up and come along. It really is a case of the more the merrier....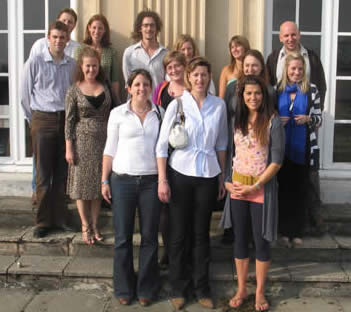 Some of the Old Northavians who came to the 1980s Reunion
(and hadn't wandered off somewhere else at the sight of a camera!)
xxxxxxxxxxxxxxxxxxxxxxxxxxxxxxxxxxxxxxxxxxxxxxxxxxxxxxxxxxxxxxxxxxxx
A glorious autumn afternoon in early September saw the first of what we hope will be many time-themed ON Reunions. This year was the turn of the 1970s and what a party it turned out to be….over 30 ONs and twice that number if you include wives, partners and children braved the maze of roads around West Tytherley as they desperately tried to remember how to get there, never having paid much attention before from the back of their parents' car! Of course, the school has changed its name now and the main entrance to the front drive has been moved so it was never going to be an easy challenge but all succeeded.
Not only were we fortunate with the weather but we were also delighted to be joined by both Headmasters from the era, Billy Howard and Denis Blake. Ronwen Walker (née Barton) was also there, as was Stephen Plaister, to remind us all quite how little we listened in Latin – the worst of it is that he remembered! Chris Berthoud (1975-79) and Charles Marsden-Smedley (1967-72) both spoke bravely and amusingly about their former Headmasters – the first time either speaker had had them as a captive audience and they certainly made the most of it.
The school laid on a superb lunch (and, later, tea) for which we thank the current Head, Paddy Savage, and his team. Wine from the Vondeling Estate in South Africa was kindly provided by Julian Johnsen (1971-75) and he was warmly thanked for this by Paddy. After lunch and what was, for some, a very long walk down memory lane, we were able to watch a thoroughly enjoyable 1st XI match, though the ONs did not provide the opposition, I'm pleased to report.
The feedback from the day has been unanimously positive with many old friendships rekindled, and memories revived, even those best forgotten. The inside of the school has changed so little, right down to the boards where black and white (or red and green) marks were put up. 'Sarge' has been remembered in a fitting memorial in the chapel and his picture still adorns the long corridor. Of course, the woods were probably the most evocative with so many memories of messing about, constructing huts and forts - we could see from some of the current battlements that they are still integral to school life.
In closing, I should like to agree with one ON whom I quote without permission (I hope he doesn't mind!) who summed it all up so well, thus: "I think the venue and format worked brilliantly to evoke memories that just wouldn't have come to mind if we'd met anywhere other than at Northaw. Everyone there was glad to be able to relive a very happy time for us all".
Peter Worlledge (1975-79)
Sunday 2nd December 2007 at Norman Court School
Sadly the fickle English weather struck again and the ON football match was cancelled. The AGM was rather under attended as a result! Let's hope for better luck in 2008....
OLD NORTHAVIAN REUNION 2007
Saturday 30th June 2007 wasn't quite the day that we all had in mind when it was first planned. Who could have anticipated the truly appalling weather? School Sports Days do not, sadly, lend themselves to monsoon conditions and so the decision was taken to postpone the Sports and hope that enough brave souls would persevere through the rain to join us.
In the end, we were not disappointed as well over 40 Old Northavians from the 1940s through to the current era made it. Nearly 20 former members of Staff were also on hand to join in the reminiscing (and enjoy the excellent lunch provided by the Norman Court catering department).
The majority of ONs present were from the Foyle era, as expected, since one of the main purposes of the day was to enable them to come and say goodbye to Kevin before he takes up his new post in the Far East. The presentation to him of an album of phototographs and memories of the school contributed by recent Old Northavians, allowed Jules Baron, the Parent Governor who had masterminded the book, to say a few suitable words of thanks for all that Kevin has done for the current generation of Northavians (old or otherwise).
XXXXXXXXXXXXXXXXXXXXXXXXXXXXXXXXXXXXXXXXXXXXXXXXXXXXXX
Saturday 14th October 2006
The Grand re-union of most of the members of the Northaw 1968 First XI football team took place at Norman Court School on Saturday 14th October 2006.
Billy Howard, Stephen Plaister and Ronwen Walker (neé Barton) represented the Staff. Jonathan Haak (Captain), Jamie Birkmyre, Dariush Bakhtiar, Adrian (Stan) Baring, Simon Clements, Pierre Condou, Simon Moore, Stuart Naylor Vane and Stephen Windsor-Clive represented The Team. Unfortunately, Edward Bolitho, Jamie Lindsay and Graham Radley were unable to be there on the day.
Their contemporaries included Lionel de Rothschild, Hugo Egleston, Jonathan Ford, James Hibbert-Hingston, Michael Higgins, Henry Humphreys, Tom Maidment, Noel Malcolm, Tim Pritchard-Barrett, Robert Sutcliffe, Charlie Thomas, David Thomas and Toby Whaley.
Many had travelled a considerable distance to be there – Tehran, southern Spain, Germany, south Wales, the Suffolk coast and even the other end of the Norman Court Estate being amongst the departure points!
Inspired, no doubt, by the presence of the all conquering Class of '68, the current Norman Court School First XI did not disappoint, beating Ryde School by a convincing 6-0.
After the match, a reunited Team photograph was taken with everyone positioned as they had been in 1968. The only thing that was lacking (apart from the three absent players) was a trip to see a Magnificent Seven double-bill, but you can't have everything!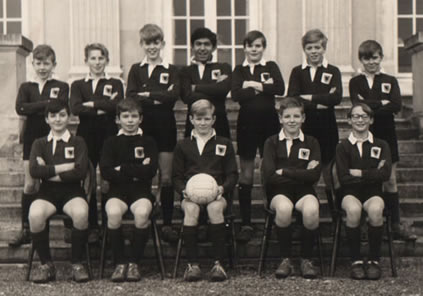 NORTHAW FIRST XI in 1968